Sep 20, 2015 at 10:08 PM
Page 1 of 6
... is the name of the last solo concert recording of David Gilmour which coresponding tour in 2006 I totally missed.
After Richard Wright left in 2008 I was quite sure that this was the last chance to see Pink Floyd and even David Gilmour live on stage.
But, a miracle, it is September the nineteenth 2015 and there is another night to remember: David Gilmour in Oberhausen.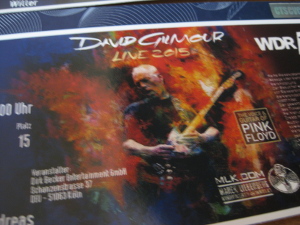 Last Updated ( Sep 21, 2015 at 01:09 PM )